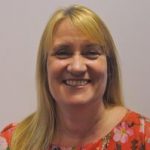 Service Manager, Caritas Bakhita House
I joined the Metropolitan Police in December 1983. After 31 years I retired and on 2 December 2014, I became part of the team that developed and opened Caritas Bakhita House (CBH). Much of my time in the Police was spent dealing with traumatised victims of crime. So the idea of helping victims in a more holistic way was appealing to me, as I could apply the skills and knowledge I had gained whilst working for the Met Police, by adapting new methods that would enable me to help victims over a longer period of time. Since 2010, I had worked closely with the Church in supporting victims of trafficking, a highly successful partnership which culminated in the opening of Caritas Bakhita House.
There are many different aspects to my role.
I have overall responsibility for the operational running of CBH and the training and development of the team.
I am also responsible for the decision making process leading to guests being accepted into CBH and then the monitoring of each case, to ensure that the guest receives the best possible care throughout their stay and for 6 months after leaving. I also have responsibility for awareness raising, partnership building and fundraising
I maintain links with our partners, the Metropolitan Police, Santa Marta Group and St Marys University to name a few, and I am responsible for recruiting volunteers, as well as networking with other partners and organisations within the Modern Day Slavery arena, sitting on various committees across London, and providing support on best practice with other agencies on Modern Day Slavery.
I like the variety in work that my role gives me, the biggest challenge is always to balance everything expected of me.  Every guest that has stayed at CBH brings memories but always the birth of a baby (6 so far!) is the most memorable and the recent baptism will stay with me for a long time.