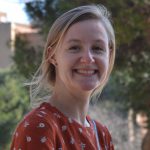 Team Leader, Westminster Youth Ministry
I've been working for the diocese, in one way or another, for the last five and a half years (Sept 2011). Initially as a Volunteer Missionary at the diocesan retreat centre, SPEC, and then in the last four years (April 2013) as part of the Youth Ministry Team based in Somers Town.
I have loved being a part of this diocese. Personally, in the ways that my faith has been stretched and nourished, but also professionally through the continually opportunities that come up to take a role of leadership; to encourage or walk alongside and learn from others who are in many ways pioneering new approaches to ministry and evangelisation in this country.
My current job role is that of Team Leader for the Somers Town Youth Ministry Team. In this role, I help to co-ordinate the efforts that go towards supporting our parishes in their youth ministry, as well as taking a lead in organising and ensuring the smooth running of the numerous events and pilgrimages that happen within our diocese. I have been given much support and encouragement, both in the months and years that have led to this opportunity becoming available, but also in an ongoing capacity. There are many people who I can turn to, for support, guidance, responses to queries, and so on, which is really what gives me the confidence to step into this role.
There are many ways in which this job can grow, and that I can grow with it. It is quite an innovate area of ministry; we are always looking for something new, and new ways to re-engage with the young people of our diocese – the work is always varied. In many ways, it is a privilege to have the job that I have. I am also given the freedom to learn new skills at a variety of different training programmes.
It has been a really life changing experience for me. From starting as a fresh faced university graduate, the last five years have been an incredible opportunity to work with some wonderful people, doing some really incredible work. It was nothing like I imaged, but has been a truly transformative experience.